Electronic Workflow
When it comes to return on investment for electronic content management systems (ECM), nothing turns the productivity corner like electronic workflow. All of our ECM systems have a workflow component that allows us to do so much more than securely store organizational data and content. With our ECM platforms, as soon as the basic archives are in place, we can use electronic workflow to move your documents through your business process electronically. Using electronic workflow, we typically see business process costs reduced by 30% to 60% of the existing, manual process. We do that by eliminating paper and non-value added manual labor that drive up costs using paper based systems.
"75% of companies still rely on paper based processes

to manage AP, taking as long as 33 days to process at an average cost of $37 per invoice."
Here is a look at a simple accounts payable electronic workflow process:
The process begins at the capture stage where inbound invoices are scanned, identified and run through an optical character recognition (OCR) process during which key data is extracted from the invoice itself. Next, the invoice image and data are sent to a Validation operator who confirms the OCR accuracy and releases the invoice to the AP workflow where the invoice moves through the approval process, electronically. When the approval process is complete, the invoice and data are sent to the ECM archive for long term storage as well as your line of business application for payment processing.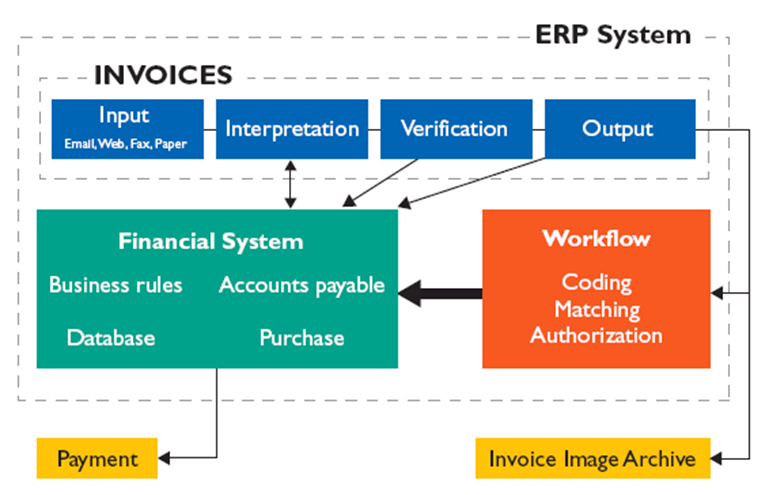 Aside from rapid ROI, the benefits of business process automation are manifold:
     Elimination of lost or missing documents
     Extends the value of your ECM investment
     Eliminates most manual data entry creating dramatic saving on labor costs
     Reduced cycle time allows users to take advantage of early payment discounts
     Increased visibility into the AP process for CFO's and AP managers
     Increased productivity, information accuracy and employee accountability